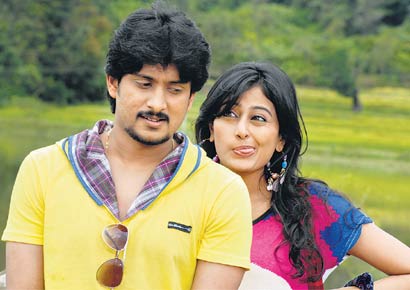 A scene from Krishna Marriage Story
Krishnan Marriage Story(Kannada)
Director: Nuthan Umesh
Cast: Ajai Rao, Nidhi Subbaiah, Jai Jagadish, Vinaya Prasad
Rating: 60%
This film had a lot of expectations riding on it. Firstly, the title misled a lot to believe that this was the sequel to 2010's superhit Krishnan Love Story. Secondly, the lead pair, Ajai Rao and Nidhi Subbaiah, has had good outings at the box office. Thirdly, the songs of the film have become pretty popular on the charts.
Does the film manage to match the expectations? Mostly yes, but there are a few let-downs as well. This film, which is much like the family entertainers genre that Yashraj and Rajshri Productions had set up in the 1990s, comprises of a typically happy joint family, with picture perfect people. The eligible bachelor in the family is to wed and the story revolves around his 'perfect' bride.
The film seems to have been shot through rose tinted glasses, for each scene is beautifully shot and the actors look their best. And the locations too add to the charm of the film. A slight hitch to the happy story is what makes for the twist towards the end. (Though it is quite predictable!)
Nuthan Ramesh's freshness when it comes to handling a much used subject needs to be commended. A flashback scene that has the protagonists as youngsters and the scene where Ajai proposes to Nidhi are rather endearing. Ajai has done a good job.
Nidhi has a tailor-made role in which she doesn't fail to impress. The formidable ensemble, led by Vinaya Prasad and Jai Jagadish, has chunky roles that they justify with their acting.
On the flip side, the film drags a bit towards the end, especially with their emotional scenes and the artiste who dubbed for Nidhi for the climax is quite a disappointment.
Directors, who have cast actors who have a good hold on Kannada, should let them dub for themselves to keep their characters alive. This is the best example of how bad dubbing can spoil a good scene.